Dear loved ones,
expect to get loads of cute cards from me.
Love, Sophie.
Now don't fear the lack of free space on your mantlepiece, or feel the need to rearrange your framed photos, because all of those cards will be paperless. So just check your emails and smile! Even though I'm all for being old fashioned when it comes to birthday cards or invitations, I'm also horribly forgettable when it comes to actually sending the cards. I must shamefully admit that it has happened to me 90% of the time (when I was on vacation for example that I wrote a nice little post card) that I forgot to mail my cards in the end! So now, that
Paperless Post
has asked me to collaborate with them, I will no longer have this problem and I'm able to send cards whenever and from wherever I want without having to even think about a post office!
On the website of
Paperless Post
you can choose between many different occasions for which cards can be required such as holidays, weddings, parties - with or without special themes (e.g. baby showers, engagement parties), birthdays, business events, eccetera... Of course there is also a wide range of thank you notes and greeting cards to choose from, but what I find super lovely is the selection of "Just Because" cards, because with them you are able to show that you don't always need a reason to tell someone how important they are to you with a cute card!
To be honest, I would looove to tell you all about how I'm sending out save the date cards from
Paperless Post
for my wedding, but I'm neither engaged, nor will i be soon probably, so I better stick to what I'm familiar with, which is sending out birthday cards! (But I can promise you this: The day I get engaged, I will post the hell out of these paperless save the date cards and wedding invitations! Don't say I didn't warn you!).
Paperless Post
provides a wide range of different birthday cards for whatever taste the sender or the recipient may have. You can find cards suitable for family members, best friends, significant others, co-workers and anyone else you would like to congratulate, no matter the relationship! This previously mentioned wide range of birthday cards consists of simple and elegant cards, cards for specific birthdays (you can of course choose the recipients age when personalising), cards with little comics on them, cards with witty quotes and maaany more! Another great thing is, you can also personalise cards with your own photos!
At this point I can only invite you to have a look for yourself and admire all of these beauties firsthand:
Birthday Cards
Even though I strongly advise you to do so, you'll find a small selection of stunning examples down below! (Oh, how I had to use all of my willpower to keep it SMALL)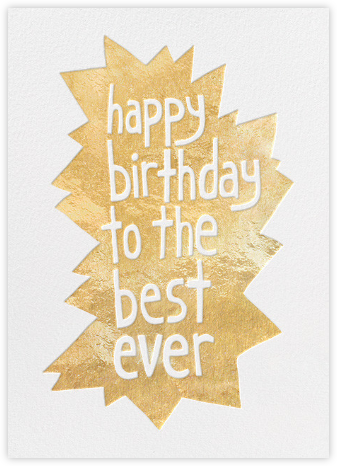 But if you happen to be
one of those people,
Paperless Post has got the perfect way even for you! In case you're wondering: Yes, I am indeed talking about you lot that like to miss one or two birthdays. But don't you worry, with the
Belated birthday cards
you will no more have to have these awkward talks about how you were "so busy" or "confused the dates", because these cards will make the recipient laugh in appreciation!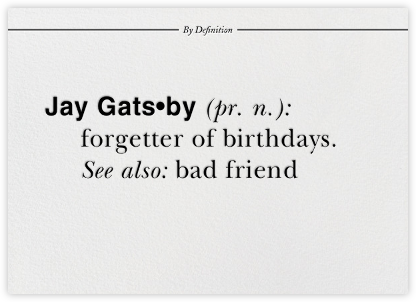 A little bit about it...
Warning: The following paragraph will automatically destroy any justification for not giving Paperless Post a try!
Something I noticed when talking to people about sending cards online is, that quite some seem to have a certain respect towards this modern method. They say they haven't tried this before, so it must be terribly difficult and as a result take enormous amounts of time. All I can advise these people to do is to stick their pinky toe out of their comfort zone and just go for it! Seriously, designing and sending your own postcards online is nothing to be afraid of and as easy as doing it the old-fashioned way, (In my case, I admit it's even easier this way due to my previously mentioned postcard-send-block) and it's waay more fun! I love how you can really customise your card until you deem it perfect down to the last detail! (Kind of makes me wish I had more birthday cards to send... Two per week for example would be nice!).
When customising your card you can choose a backdrop first, which is also the first chance to give it your personal touch! At this point you can also decide on adding a photo and [drumroll] decorate it with funny little wigs, motives fitting the occasion or a little phrase!
Your next step is writing your card. Once you've done that, you can select a pretty typeface and colour and meddle with its formatting. As you might have already guessed: You can also customise your envelope by selecting a lining and outline colour you like (of course you have the possibility of choosing a backdrop again). And last but not least you pick your preferred stamp and send it!
My thoughts...
At this point I want to express my deepest gratefulness for being asked to collaborate with a company as marvelous and congenial as Paperless Post! Thank you a thousand times, I am genuinely honoured and thrilled for being chosen!! *Stopping myself from sending Paperless Post one of their own thank you notes.*
When I started using Paperless Post, I was a complete newbie to the land of online greeting cards, but I felt immediately at home the second I first laid eyes on this website and can genuinely say that I will from now on be sending out their cards regularly - for whatever occasion (or even none at all if I please to).
x Sophie.